Mercedes-AMG® Project ONE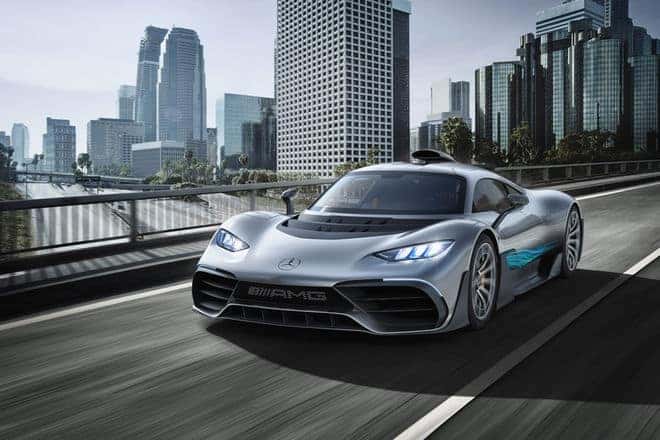 As the main focus of the Frankfurt Auto Show, Mercedes-Benz AMG® introduced a hybrid road safe Formula 1 hypercar called "Mercedes-AMG® Project ONE". Unknown to the audience, Lewis Hamilton drove it onto the stage and surprised the crowd when he stepped out of the super-car that he played a part in designing and developing. If Lewis Hamilton, 3 time world champion F1 race car driver says the Project ONE is a beast to drive, then I think it's safe to say we can trust his expertise.
SPECS
Everything about this machine is fine tuned, and when you look at it, you know you are seeing into the future. Equipped with over 1,000 HP, a top speed of 217 MPH, and a smaller engine than what you find in a ford focus, you have a hypercar made for the road with Formula 1 race car performance in an everyday driver. Accelerating from 0-125 in just under 6 seconds it rivals the Bugatti Veyron.
FOR THE RACE CAR DIEHARDS & ENVIRONMENTAL ENTHUSIASTS
The Mercedes-AMG® Project ONE hypercar is made to function as a hybrid but will also have the capability to drive in fully electric EV mode, giving the driver a range of 15 miles completely emissions-free and providing you with the option of a very quiet ride. True racecar fans will be happy to know, that even as a hybrid, the Project ONE has not gotten rid of the gorgeous sound you love so much.
ONLY A HANDFULL OF PEOPLE WILL OWN ONE
Just 275 people will get to own of one of these beauties, and all 275 of those people have already pre-ordered theirs and are waiting for Mercedes-AMG® to start shipping them out.
What do you think about the Mercedes-AMG® Hypercar? Let us know in the comments below!