Deck the halls with all things Mercedes-Benz
Get ready for a magical holiday season at Mercedes-Benz of Laguna Niguel. Whether you are traveling outside of Orange County or staying local, we have something for everyone.
Holiday travel is expected to have increased by 3.3% this year from 2016, which means there will be more cars on the road and longer security lines at airports. Whether you are traveling across the country to visit friends or driving into the next town to see Grandma, we want to ensure you arrive in style with all the Mercedes-Benz travel essentials. As our gift to you, we are offering a holiday accessory offer. Click HERE to redeem.
PREPARE FOR SWEATER WEATHER:
Prepare for colder weather with a Mercedes-Benz sweater, vest, or jacket. Depending on what you have planned this season, Mercedes-Benz of Laguna Niguel's holiday boutique has got you covered from 50-degree weather to 80-degree weather.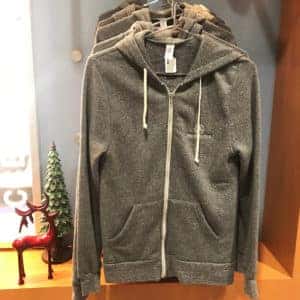 CUDDLE UP:
Ideal for a long car ride, plane flight, or evening by the fire, the Mercedes-Benz fleece blanket is the perfect accessory to keep you warm. Plus, it's easy to pack.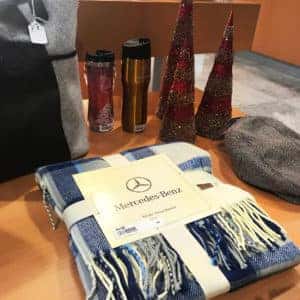 STAY WARM AND SAVE A TREE:
Keep your beverage warm with a Mercedes-Benz Thermal water bottle or travel mug and help save the environment while you're at it. Ask Starbucks to fill up your MB reusable thermal with your favorite holiday beverage and save a paper cup.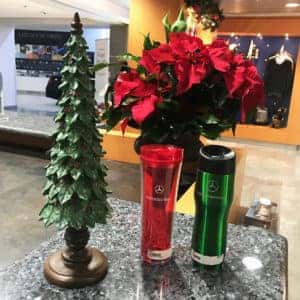 GET PACKING:
The Mercedes-Benz duffle bag is a necessity for weekend getaways. It stores easily and fits in the overhead compartment of an airplane. Pack all of your travel essentials inside and look ultra posh whilst carrying it around.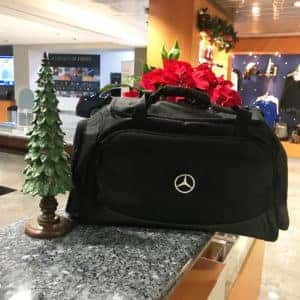 BRING THE FAMILY CLOSER:
No matter what your plans are this season, bring everyone closer with one of America's favorite pastimes. Available for a limited time only, AMG®'s 50th Anniversary Monopoly board game is in stock now. This limited edition board game is a perfect for nights spent with family and friends.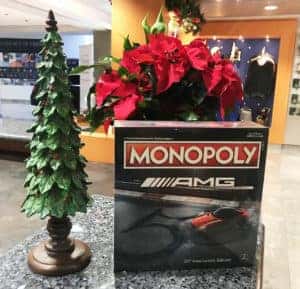 If you are traveling on the roads (by car) this year, we hope that you are still loving the safety and luxury of your Mercedes-Benz. If you are looking to upgrade your sleigh, we urge you to start your journey by browsing online and browse our new or pre-owned inventory. New to Mercedes-Benz? Schedule a VIP appointment with one of our knowledgeable consultants and join the MBLN family!